Visit of the CNCP delegation to YerPhI
On May 4th the delegation of the UK Closed Nuclear Cities Partnership (CNCP) programme visited YerPhI.
The commercialization of scientific ideas and technologies is the core of CNCP's strategy for creating secure, well- paid and satisfactory jobs for former nuclear weapons specialists. While certainly more difficult than backing the existing firms in the established areas of business, our experience shows that fostering high technology startups has real potential in the Closed Cities and nuclear institutes of the CIS.
The world experience has shown that, while the scientific knowledge and the engineering skills are the starting point, the difference between failure and success almost always depends on business knowledge and skills in areas such as marketing and staff selection and training, management drive and competence and access to appropriate forms of finance.
Identifying projects with a real chance of succeeding in the market, nurturing development through the start-up phase, securing intellectual property rights, studying the market, and accessing funding require expert advice. Many lessons have been learnt in the UK and other advanced market economies on how to best support science-based business through the early stages.
According to its mission, CNCP already allocates to YerPhI scientists several projects on isotope production, fabrication of the lab furnaces, development of the applied laser techniques and gas vessels and pipes check.
These and new submitted projects were discussed during the visit. The CNCP officers clarified the possibilities of CNCP to fund projects in YerPhI and explained the procedure of project submission and funding.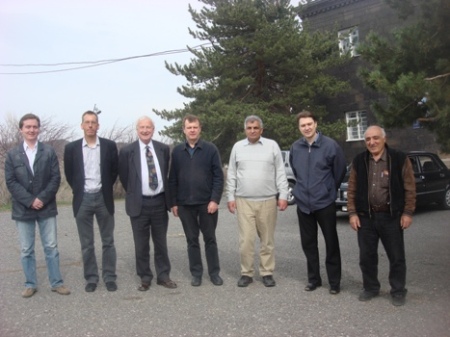 Figure 1 Alexander Tsybulia head of the CNCP Moscow office, Steve Sugden, CNCP expert, Christopher Watson CNCP expert, Patrick Gray CNCP Programme Leader, A. Chilingarian, YerPhI director, Sergey Klykov, CNCP Moscow office manager, Armen Hovhanissyan, maintenance chief of the Nor Amberd research station at Nor Amberd research station