A New Class of Astronomical Objects was Found out, Lenta.ru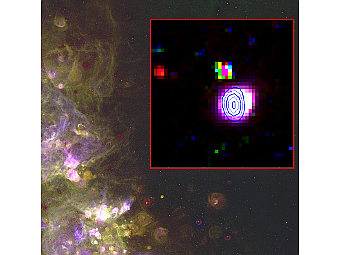 Суперпланетарная туманность. Иллюстрация авторов исследования
Астрономы обнаружили новый класс космических объектов, который они назвали суперпланетарными туманностями (Super Planetary Nebulae). Статья исследователей с подробным изложение результатов появилась в журнале Monthly Notices of the Royal Astronomical Society, а ее краткое изложение приводится в пресс-релизе Королевского астрономического общества.
В рамках работы группа ученых из США и Австралии изучала при помощи радиотелескопов Большое Магелланово Облако - соседнюю с Млечным Путем карликовую галактику. В результате им удалось обнаружить 15 активных в радиодиапазоне объектов, которым соответствовали планетарные туманности, видимые в оптические телескопы.
По словам исследователей, данный факт означает, что им удалось обнаружить необычайно массивные планетарные туманности. Обычно эти объекты обнаруживают вокруг звезд, масса которых составляет около 0,3-0,6 солнечных. В данном случае расчеты показывают, что центральные звезды туманностей имеет массу 1-8 солнечных. При этом масса газа и пыли, которые входят в туманность, составляет около 2,6 солнечных.
Планетарные туманности образуются на последнем этапе развития звезд, когда светила сбрасывают внешнюю оболочку. В результате образуется газопылевое облако, в центре которого обычно располагается белый карлик. По словам астрономов, они настолько были удивлены обнаружением массивных туманностей, что проверяли свое открытие в течение трех лет прежде, чем опубликовать результаты.